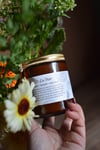 A collaboration with EarthTonix featuring a custom scent inspired by my mom's lemonade recipe.
This candle burns for approximately 40 hours, and is poured in an amber glass jar. Each candle comes with a small biqued clay pendant, which can be used as an essential oil diffuser.
ABOUT EARTHTONIX:
SMALL BATCH - HAND POURED WITH INTENTION IN GAINESVILLE, FL
100% NATURAL SOY WAX INFUSED WITH CRYSTALS & BOTANICALS
NONTOXIC, LEAD & ZINC FREE, PHTHALATE FREE
INSTAGRAM @EARTHTONIX
A note on buying from AguaDulce:
-Made by hand, so variations in shape or form may occur and are natural.
-The ceramic piece(s) are dishwasher and microwave safe. Handwashing recommended.